Rear Admiral Jorge Ugalde Jacques
Commander in Chief of the First Naval Zone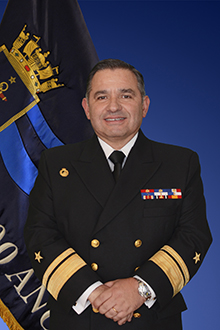 Rear Admiral Jorge Ugalde was born in Santiago on December 13, 1962. After studying in San Francisco Javier school in Puerto Montt and Instituto Nacional in Santiago, he attended the Arturo Prat Naval Academy, from which he later graduated as midshipman on December 1982. On 1983 he went on the training trip aboard the Training Ship Esmeralda.
He is a specialist in Staff, Artillery and Missiles. He has a Master's degree in maritime and naval sciences and he also has the title of military academy teacher in Naval Operations.
During his 18 years of service on board the he has served aboard the Cruiser O'higgins, the Missile Boat Casma, Destroyers Capitán Prat and Blanco Encalada. On 1997 he obtained the title of Chief of Guard of Surface Combat Units. On 2004 he was the second in command of the Destroyer Captain Prat and on 2005 and 2006 he worked in the Chief Command of the Fleet as Head of the Logistics and Operations Department On 2011 he became the Chief of Staff of the Fleet.
He was the commander of the boat Orompello in 2002, in Punta Arenas he was the commander of the frigate Condell in 2007 and the frigate (FF) Condell in 2010, both of these in Valparaiso.
On land, in 1992 he was part of the Program Management Unit and Research and Development of the Navy. In 1993, he was the Technical Inspector of Works, and also a Naval Attaché at the Chilean Embassy in Israel. In 1999 he took a General Staff course at the Naval War College to later work at the Naval Personnel Command as second in command of the Seamen Command. In 2003 he became the Chief of the Department of Personnel and Chief Command Training of the Third Naval Zone. During 2008 and 2009 he was an attaché at the Chilean Embassy in Spain. On 2012 he became the Head of the Department of Officers and Civilian Employees of the HHRR Unit of the Navy.
On November 9, 2012, he became the Head of the HHRR Unit of the Navy.
On November 24, 2014, he became a Navy Comptroller.
On January 1, 2015, the Supreme Government granted him the promotion to Rear Admiral.
On June 12, 2017 he became Commander in Chief of the First Naval Zone
He is married to Mrs. Leticia Aracena and they have 4 children: Macarena, Camila, Jorge and Matías.