Rear Admiral Andrés Rodrigo Ramírez
Chilean Navy Comptroller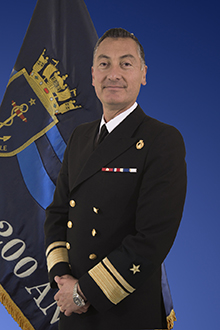 Commodore Andrés Rodrigo R was born in Valparaiso on December 21, 1964. Educated at Italian School "Arturo Dell'Oro", in Valparaiso, he joined the Naval Academy "Arturo Prat" and graduated as a Midshipmen in December 1985.
During his career as a junior officer, he served in different units and departments of the Navy. On board he served in the DDG "Admiral Williams", the DLH "Blanco Encalada", the AP "Piloto Pardo", the PFG "Baquedano", the DLG "Almirante Latorre" and the tall ship "Esmeralda". In shore, he served as an instructor at the Naval School, in the Iquique Naval Telecommunication Sub-Centre and the Head Quarter of the Fourth Naval Zone.
In 2000, he was appointed as an Undersecretary of the Inter-American Naval Telecommunications Network based at the United States Naval Station in Puerto Rico. He then, in 2004, attended the "Command and Staff" course in Lima, Peru.
Between 2004 and 2011, he served on board and in high naval departments, such as in the Chief of Staff Department odf the Navy and the General Directorate of Personnel of the Navy. He also served on the training ship "Esmeralda" as an Executive Officer, completing a deployment around the world.
From 2012 to 2013 he studied at the Royal College of Defence Studies (RCDS) in London, Great Britain. At the end of 2013, he was appointed as a Chief of Staff of the First Naval Zone, until December 2014.
In 2015, as a Commanding Officer of the fleet replenishment oiler "Almirante Montt", completed a deployment in Esquimalt, Canada, contributing the training of the Canadian Royal Navy ships and returning the same year to Valparaiso.
Between 2016 and 2017 he served as a Chief of Staff of the Naval Operations Command, based in Valparaiso.
He has been privileged to command four ships: the coastal patrol "Campos", the general service ship "Ortiz", the OPV "Comandante Toro" and the oil tanker "Almirante Montt.
Commodore Rodrigo is specialist in Staff and also in Engineering of Weapons in Telecommunications. In addition, he holds a diploma in Business Management, Diploma in Strategy and Crisis Management, Diploma in Senior Management and Master in Naval and Maritime Sciences. It has specialized courses in "Advanced Management Control" and "Public Management", as well as various courses and professional practices abroad and in Chile related to natural disasters management.
On June 22, 2017, assumed as Comptroller of the Navy and was invested as a Commodore on the 20th of the same month.